This article covers the following topics:
CPU: ≥ 2GHz
RAM: ≥ 2GB
Storage: ≥ 20GB
Screen resolution: ≥ 1024 x 768
To achieve optimal results it is strongly recommended to use at minimum 4GB RAM and a higher screen resolution.
The following operating systems are exclusively supported for an ETS5 installation:
Microsoft Windows 7 SP1 x32/x64 
Microsoft Windows 8 x32/x64 
Microsoft Windows 10 x32/x64
Microsoft Server 2008 R2 SP1 x64 
Microsoft Server 2012 x64
Installation of software components
The software components required for ETS5 (e.g. the .NET framework) are not installed via the setup tool of ETS5, when the target computer runs on a Microsoft Windows 8 operating system. However, the setup informs that it is necessary to download and install those components.
If the target computer is connected to the internet, Windows will try to automatically check for updates, download and install them. During such updates, ETS5 setup will be interrupted.
If the target computer is not connected to the internet, you will have to load those components from the installation CD/DVD and install them.
Non-supported interfaces and environments
Installing and running ETS5 on a supported operating system in a virtual environment (such as Virtual PC, VM Ware, etc.) and/or via Remote Desktop is not foreseen. Working in such environments is at your own risk. In this case, warranty and support cannot not be given by KNX Association.
Linux, MacOS, and other not mentioned operating systems are not supported.
Serial RS-232 communication ports are no longer supported starting with ETS5. x64 operating systems have stopped supporting RS-232, which already affected ETS versions 3 and 4.
1. Go to MyKNX and download ETS5. This can be done either:
by visiting the section 'My Account-->Products' and then clicking the green 'Download' button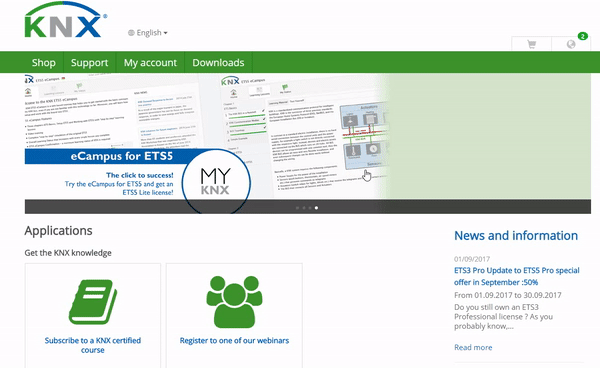 by visiting the section 'Downloads' and then clicking the 'Download' button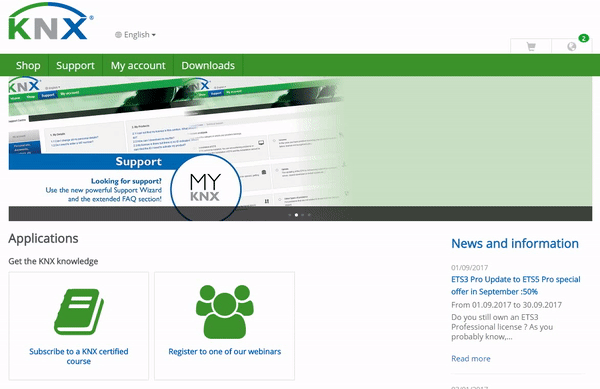 2. Locate the downloaded zip file that contains the ETS setup file.
How to locate the download folder in...
3. Extract the content of the downloaded zip file and run the 'Ets5Setup.exe'
4. Follow the steps of the ETS5 installation wizard.