If you have not added the dongle option to your upgrade order as you already had a dongle, you will need to reactivate the dongle you already have for your new ETS6 version via the ETS6 software.
In case you upgraded from ETS5, you will then have both, the ETS5 and the ETS6 license on this dongle.
Be aware that this will only last until you apply for a replacement dongle due to loss or other reasons. Then you will get a new dongle on which the old ETS5 license can no longer be installed because you have officially upgraded it.

How to do this

1. Download the ETS6 setup from MyKNX and install ETS6.
2. Plug the dongle into the computer where ETS6 is installed to activate the upgrade.
3. Start your ETS6. The licensing guide will assist you.
4. Enter the MyKNX credentials from the account to which ETS6 can be found and click the 'Login' button.
An active internet connection is needed, thus if this is not the case, please use the manual licensing as explained in ETS6 manual licensing.
In case you have no MyKNX account yet, you can create one by clicking the respective link (Create New Account).
If you have forgotten your MyKNX account password, you can reset it by clicking the respective link (Forgot Password).
If you only want to use the software in Demo mode, click the 'Run Demo' button.
4. ETS6 connects in the background to the given MyKNX account, fetches and displays any available ETS6 licenses.
5. Select the license you want to activate and click the 'Activate' button.
6. Select the dongle on which the license shall be stored and click the 'Activate' button.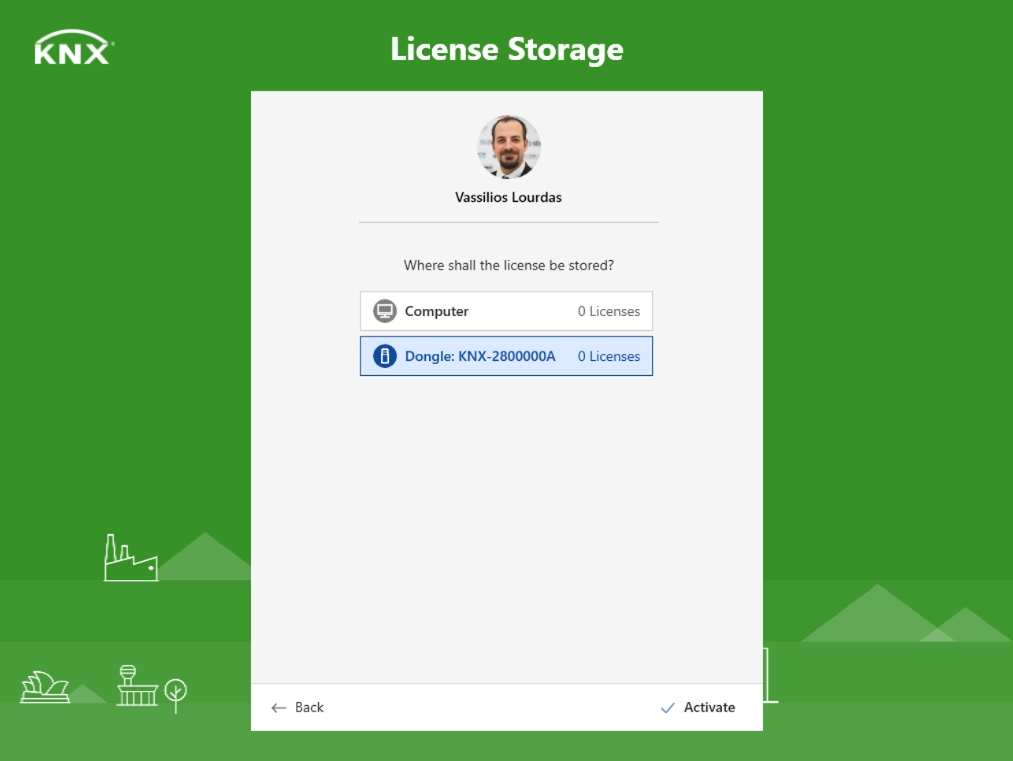 7. By doing that, ETS6 connects to the licensing server to verify the validity of the license, and then it stores it to the dongle. This means that the ETS6 is licensed and can be used.
After licensing ETS6 with a dongle, the ETS6 license is only active if the KNX USB Licensing dongle is plugged to the computer, otherwise ETS6 is switched to demo mode.