After the installation, ETS can be started by clicking the ETS6 icon on the desktop or via the newly created entry ETS6 in the program group called KNX.
When ETS opens, a window appears which is referred to as the dashboard. You can access the dashboard again at any time by clicking on the '+' button to open a new ETS tab.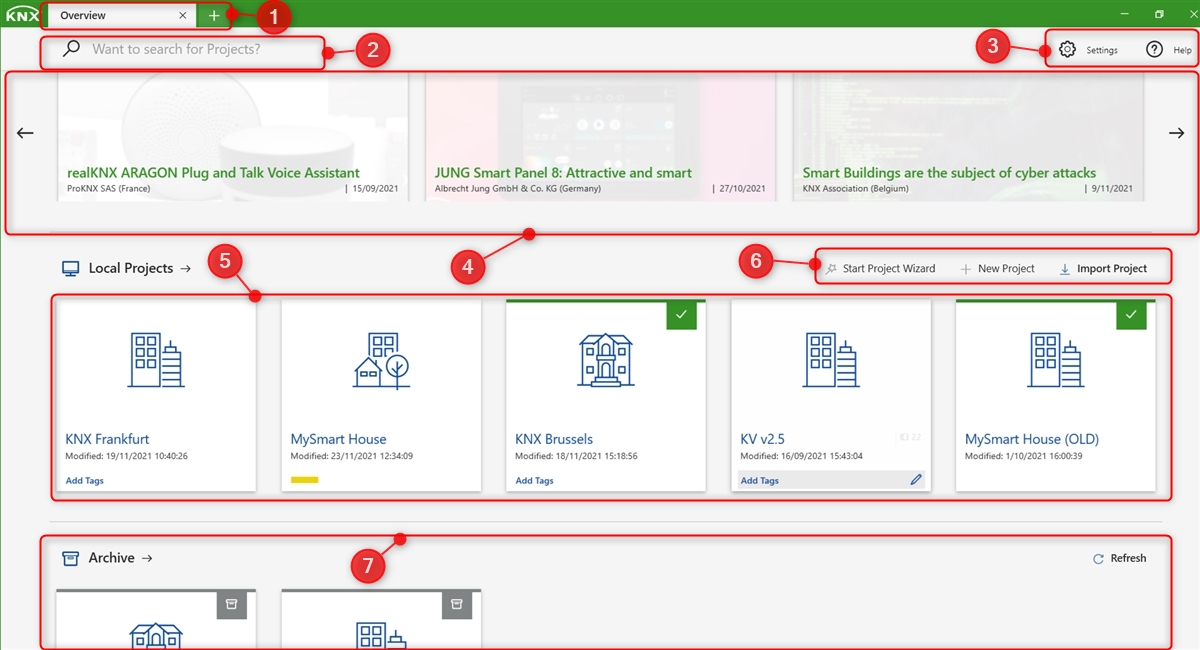 Tab handling (1)
ETS has browser-alike behavior for the tab and panel handling. Clicking the '+' button opens a new 'Overview' tab.
Search bar (2)
The Search bar allows a user to quickly search for projects regardless of their location – the local list or anywhere in the archive. More information can be found in Search and filters on the dashboard.
Main toolbar (3)
The main toolbar contains the buttons 'Settings' and 'Help', by means of which the ETS settings and the ETS Help centre open respectively.
KNX product information (4)
This section displays new KNX products from KNX manufacturers by means of an RSS feed. The product information is shown randomly with the display of the initial content after starting ETS; scroll using the forward/backward arrows.
When connected to internet, the product information is downloaded from the server, displayed and saved temporarily on the local hard drive. If there is no internet connection, then any available local data is displayed.
Local projects (5)
Shows the latest modified Local Projects, sorted by the latest modified (left) to the oldest modified (right). Clicking the 'Local Projects button opens the entire Local Projects list, where all the local projects are listed.
Project toolbar (6)
The project toolbar contains the following options:
| | |
| --- | --- |
| Button | Description |
| Start Project Wizard | Creates a project using the Project Wizard. |
| New Project | Creates a new project to the local project list and opens a dialog for entering the required data. |
| Import Project | Imports one or more projects at the same time (depending on the selection in the File selection dialog) with the help of the Import Wizard. It is also possible to import without the Import Wizard. To do so, hold down the SHIFT key down when clicking the Import button. |
Project Archive (7)
Shows the latest modified Archived Projects, sorted by the latest modified (left) to the oldest modified (right). Clicking the 'Archive -->' button opens the entire Project Archive list, where all the archived projects are listed, whereas clicking a project tile from the 'Archive' opens the virtual folder where all the different project versions can be found.
The icon in front of the 'Archive -->' button displays the operation mode of the project archive; the possible options are the following:
| | |
| --- | --- |
| Icon | Mode |
| | Collaboration |
| | Backup |
Clicking the 'Refresh' button refreshes the project list in the project archive.
This might be useful in case the project archive directory is on a network drive which might take some time until it is automatically synchronized.
Any folders in the project archive

are only shown

in the project archive list.