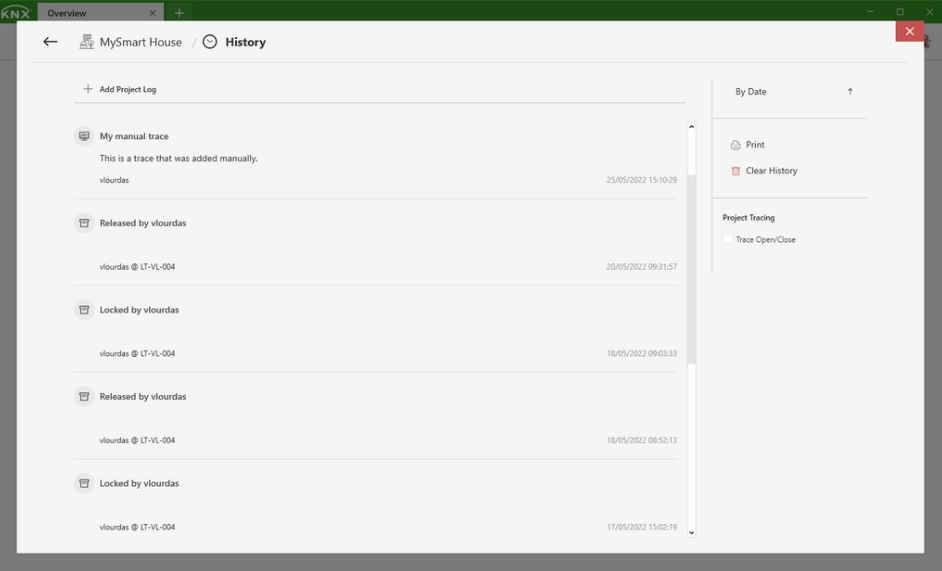 All history for the project is shown in the project history. Two types are offered.
Manually-created entries
Automatically-created entries
Manual Entries
This tab allows making custom log entries, such as notes on changes made to application programs, devices that have been added, topology changes, etc. The logbook can be especially useful when several people are working on a project. For example, important information about the progress of project design can be provided for colleagues.
Logbook entries are subdivided according to Title, Username and Description. The Description can be used to store detailed information.
Date (preset automatically, it can be time-wise adjusted, e.g. to create entries in retrospect)
User (username/login name)
Title (should not be more than 60 characters, to improve readability)
Description (optional, max. 64k characters)
Manual entries are managed and displayed individually.
Automated entries
In addition to manual project entries, there are also entries created automatically by ETS (complete change history) when the Project Tracing app which is sold separately by KNX Association is enabled. These entries are summarized and displayed per day.