With this function, you can import externally edited or newly created Group Addresses. The format must correspond to one of the formats which can be selected in Export Group Addresses and which are detected automatically when the file is imported.
Procedure
Every element that has been defined in the import file (e.g. Main Group Address name or Subgroup Address name) creates the associated Group Address item in the project or replaces the existing data if the elements already exist. There is no comparison function between the import data and project data. The import data always have priority.
Right click on the 'Group Address' item on the object tree list and select 'Import Group Addresses'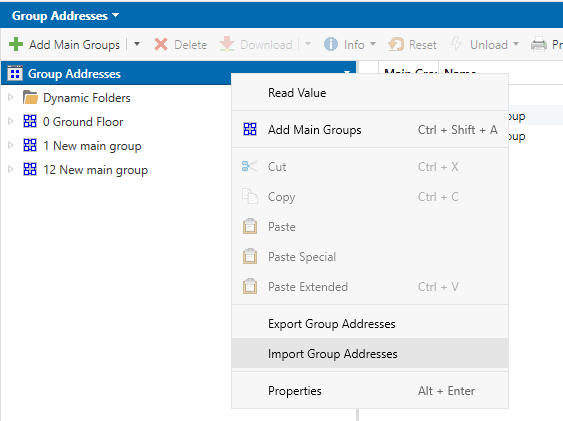 Notes
If you try to import Group Addresses in a format that does not correspond to the current project setting (into which you are importing the Group Addresses), a message appears.
A message also appears at the end of the import process showing how many elements have been skipped. All elements that do not match the expected format are skipped, e.g. for a 3/1 format, more columns than expected (4) or names or values not enclosed in quotes as well as additional possible separators in the value (Heating Main Building, South).