Problem
The following error message is displayed.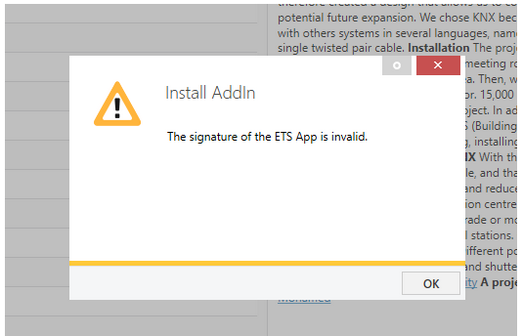 Solution
This can be caused if there is a "testing" version of an ETS App installed and you try to update it. To resolve the problem, the ETS App shall be manually removed from the "Addins" collection of the ETS installation, by following those steps:
Close ETS (use the Windows task manager to kill the process if necessary).
Go to folder C:\ProgramData\KNX\ETS5\Apps\AddIns (if not visible, then see here)
Retrieve the combination Manufacturer-AppID, to target the problematic app installation using the ETS App Info utility. Extract the file and run it, even if it's not recognized by your antivirus as a secure application to run.
Remove the identified folder and 'Mxxxx-Yyyy.signature' file corresponding to the info given back from the ETS App Info utility.
Start ETS again.
Download the released ETS App file from your MyKNX account and install it (See here).