This article covers the following topics:
Background information
The Device Templates app makes it possible to store customized KNX devices from an ETS project in order to be re-used in the same or any other ETS project. In this context, 'customized' means any modification made to the default configuration. By 'default configuration' is meant the configuration as offered by the manufacturer.
Activation
Follow these instructions in order to activate this app in ETS:
License it as explained here
No additional *.etsapp file needs to be installed
Use of the Device Templates app in ETS
Key features & background
ETS Catalog stores standard device templates (i.e. as offered by the manufacturer).
The standard device templates are added to the ETS Catalog via file import (e.g. *.knxprod) or via the ETS Online Catalog functionality.
This ETS apps makes it possible to also store customized device templates in the ETS Catalog.
Customized device templates are based on devices configured by the ETS user in an ETS project, or in other words: customized device templates are based on customized configured devices.
A customized device template represents a specific set of parameter settings and a specific set of available objects.
A customized device template does however not represent project specific data like e.g. associated Group Addresses.
Device Template folders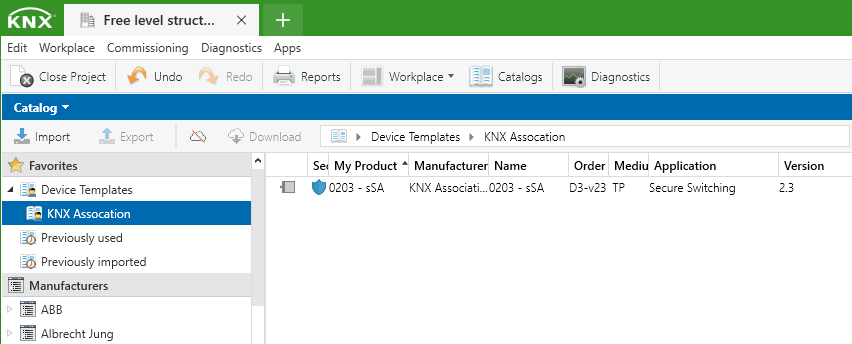 The Device Template folders are accessible via the catalog panel.

'Device Templates' is the default folder (and cannot be removed), the ETS user can add other folders.

The main folder (Device Templates) lists all product entries from

all (user-created)

sub-categories located below it, while the each sub-folder lists all product entries in this user-created category.

It is possible to move around customized device templates (to other Device Template folders).

When a folder is deleted, also the customized device templates from its sub folders are removed.
Devices added (i.e. instantiated) to projects from deleted customized device templates are not removed.

•

Device Templates can be only used on the same ETS installation and cannot be imported or exported.
Name & rules
In order to distinguish a customized configured device from its standard configured representative, it is recommended to change its name via the ETS project, i.e. select the device, from the context menu select Properties -> Settings -> Name.
It is possible to store several customized configurations for the same standard device template in the same or in different folders.
It is not possible to store the same customized configuration more than once, neither in the same folder nor in another folder. However: the name of the device is also part of its configuration, which means that the same customized configuration can be stored under different names.