This panel will assist you when searching KNX product entries and when selecting/inserting KNX devices into your ETS project.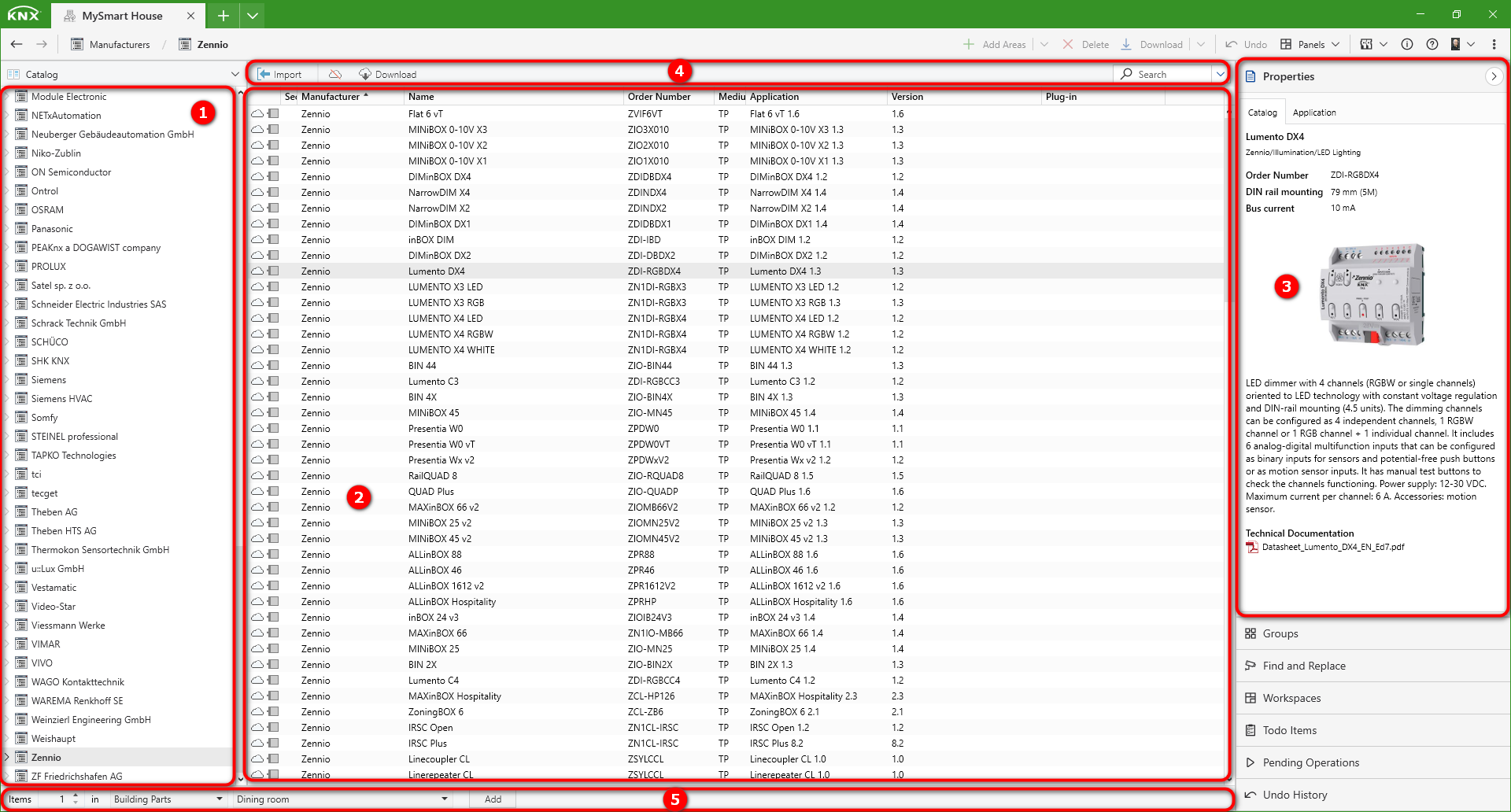 It consists of the following areas:
Details
Upper toolbar
Lower toolbar
Tree view Catalogs panel (1)
Favorites
The Favorites section offers three sub functions.
Device Templates
Allows the use of already preconfigured devices in a project. For more information, see the Device Templates app.
The lock icon appears if it is not available.
Previously used
Easy to use list containing KNX product entries that you have been previously used in a project. These can be reused in new projects or in the project which is currently open. This speeds up repetitive project design steps.
The entries are user specific.
The entries all have the default parameter configuration as provided by the manufacturer.
The maximum number of entries that can be shown are 30. If more are added, then the oldest are removed.
Previously imported
This list contains product entries that have been added in the catalog via the import wizard. All added products during one import process have the same timestamp. The list shows devices with up to ten different timestamps. When the number exceeds this maximum, the oldest entries are removed from the list. Re-importing products updates their timestamps.
Manufacturers
This tree view entry helps you access all devices (more precisely, catalog entries and the associated manufacturer-specific categories) stored in the product store.
Catalog View in the Project Window
All those products imported via a project import are also shown here. In the project itself, the definitive assignment of these catalog entries (which were brought along) from the project can be seen much more clearly, and they are better delineated.
If a catalog entry is grayed out, it cannot be imported to this ETS version (e.g. in ETS5, but the product requires at least an ETS6). This is shown as well when the mouse is moved over the catalog entry.
If the list gets too long, use the Search, Find & Filter function.