This article covers the following topics:
Background information
The Project Tracing app records all ETS user actions carried out within an ETS project, like e.g. a download or a change to a device parameter. Also the date and time of the ETS user action is stored, together with the identity of the ETS user.
Activation
Follow these instructions in order to activate this app in ETS:
License it as explained here
No additional *.etsapp file needs to be installed
Use of the Project Tracing app in ETS
Once activated and after specifying the password its functionality can be switched on.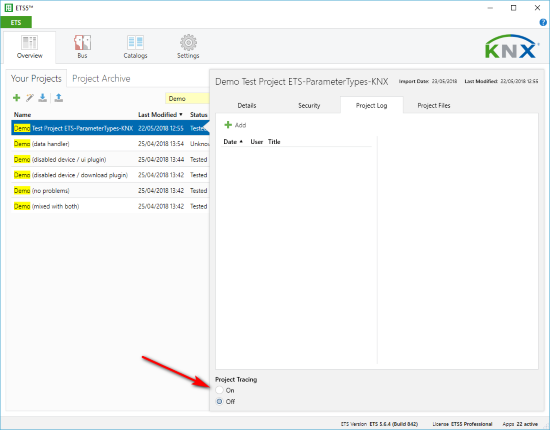 The tracing only applies to the currently open project. When switched on, every ETS user action automatically creates an entry in the ETS project log, in which also manual entries can be added. The tracing list entries are grouped per day (this is not the case for the manually added entries) and under the automatically generated title: 'Project Tracing'. The action details are stored into the Description field.
ETS user actions which do not affect a project are not stored, e.g. renaming a Device Template category.
The log entries are stored in the currently selected ETS User Interface language, changing this setting does not translate the formerly stored log entries into the newly selected language.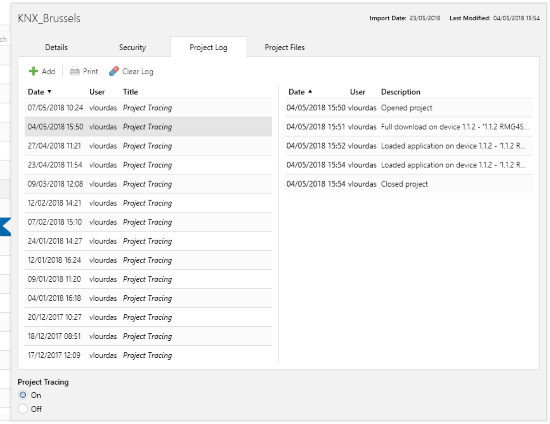 Exported ETS projects inherit the functionality of this app: if the ETS project is exported (source ETS) and further processed in a 'target' ETS (e.g. after project import or via project archive) then the functionality of this app remains enabled for this project, even if the Project Tracing app is not activated for the target ETS.
The functionality of this app is password-protected, this password is part of the project and is encrypted during project export.
Switching On/Off
The app can be switched on/off by using the 'On' and 'Off' options respectively and after specifying the password. Formerly stored entries can only be removed when the app is switched 'Off' and the project is open.