This article covers the following topics:
What can be split?
The following project elements can be split in ETS projects
Topology: an individual Area/Line.
Building: an individual Building/Building part.
Trade: an individual Trade.
Where and how to split?
Several independent split projects can be created upon a so called 'master' project. A split cannot be split again, i.e. only a master project can be split. 
Additional splits (from the same master) can only be created from elements that have not been split at a deeper level yet. E.g. a split on the Area level is not possible if a Line within that Area has already been split.
A project can be split as follows:
Select a split-able element.
Select from the context menu 'Split Project'. The master project closes while the split is being created.
In this example a line from within the topology view has been selected as base for a split project: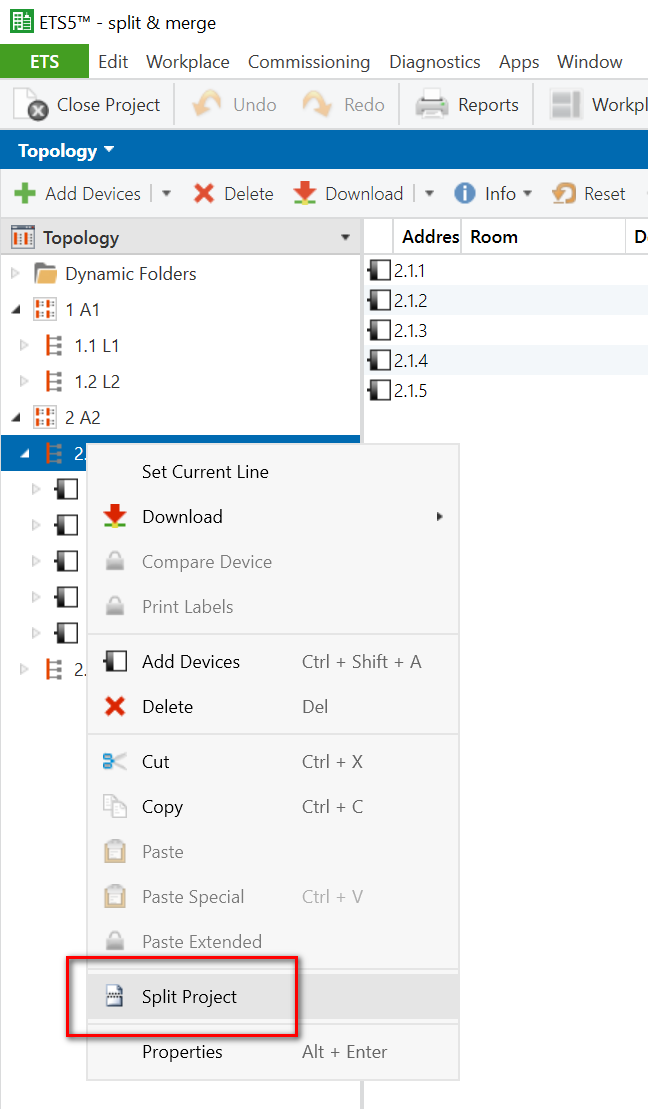 The same could be done for e.g. a 'room', or 'trade' within the building view.
Split results
After having split a project, a new project is created in addition to the master project. This is called 'split project', its name corresponds to the master project name, and has a consecutive number appended between parentheses. In this example the project 'split & merge' has been split twice, i.e. the two split projects are indicated as 'split & merge (1)' and 'split & merge (2)'.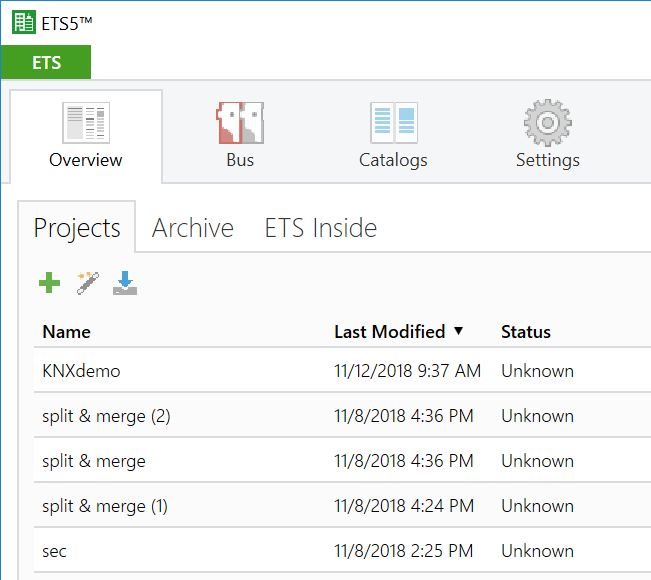 A project password in the master project (which is mandatory when at least one Secure device is added to the project) is propagated into the split project. 
A split project contains all the elements of the master project, i.e. the split 'part' can be modified, the rest is included as read-only information, see illustration underneath (and screenshots.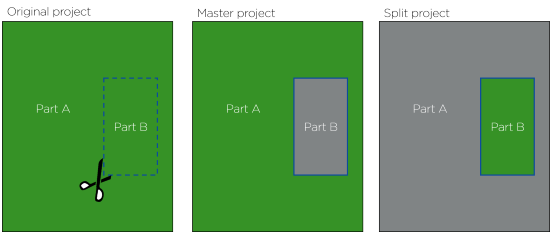 Green: modifications are possible
Gray: modifications are not possible
Elements from the both the master project and the split project, that cannot be modified are indicated with the

icon. This is illustrated in the following screenshots for a project where line 2.1 has been selected as base for a split.
| | |
| --- | --- |
| Master project | Split project |
| | |
Constraints
Names vs. identifiers: buildings and trades have a name, but no additional unique identifier like the Individual Address for a device. For elements not having such unique identifier, the following applies: e.g. for rooms on the same level (e.g. within a floor) having the same name, are not allowed for a split. ETS will raise a warning until the names are unique.
Reset split
This context menu item is active for any project, i.e. any project that has not been split, any master project and any split project. This context menu item is permanently active because the information whether the project has been split is stored in the project itself. After this, all split related information is gone. Merging such project is after a reset split still possible, but could however involve numerous manual operations.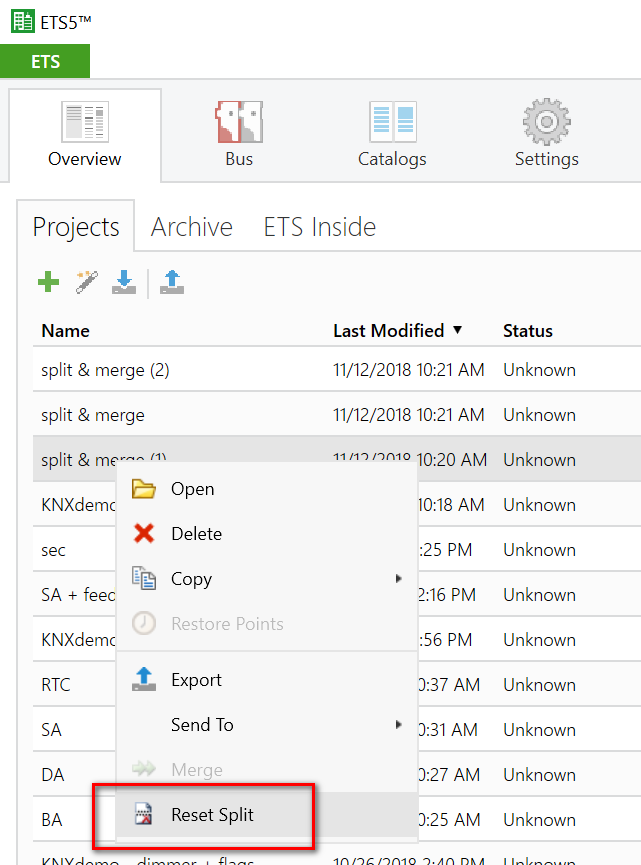 KNX Secure in split projects
A project split also influences the security related elements of an ETS project, i.e. KNXnet/IP secure devices will be added as plain devices in a split, regardless of the applied security rules in the IP backbone line (of its master).