This article covers the following topics:
Background information
The purpose of this app is to print device specific project information on stickers. These stickers help once applied, to (visually) distinguish devices. This is especially helpful when similarly looking devices (e.g. BCUs, DIN-rail modules) need to be mounted.
Activation
Follow these instructions in order to activate the app:
License it as explained here
No additional *.etsapp file needs to be installed
Use of the Labels app in ETS
Requirements:
A connected printer
Microsoft Word 2007 or higher installed
No semicolons allowed in the text fields
Office365 and consequently Word365 or any other document processor not from the Microsoft Office series is not officially supported.
Procedure & configuration
General settings
Define the content
Select the print template
General settings
ETS comes installed with two standard print templates. These standard print templates are available under 'Settings', together with the standard (KNX) logo.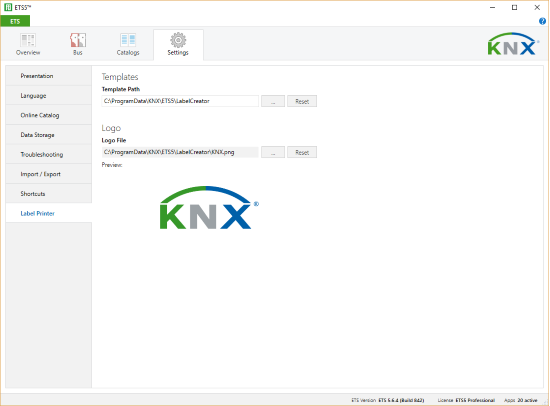 It is also possible to use customised print templates and logos, i.e. there are settings in order to change the:
Templates path
Logo file path
The logo is automatically previewed. The paths can be configured via the '...' button and can be reset to the default value by means of the 'Reset' button.
Define the content
Labels can for the following elements be created via their context menu (at least one device shall be available):
Topology: root element, Area, Line, Device
Building: root element, Building, Building part, Trade
Device: root element
The following items can be printed on a label:
Individual Address
Description
Product
Application Program
Manufacturer
Room
Trade
The logo
Select the print template
When an element has been selected and the Labels app is triggered, the following options are available: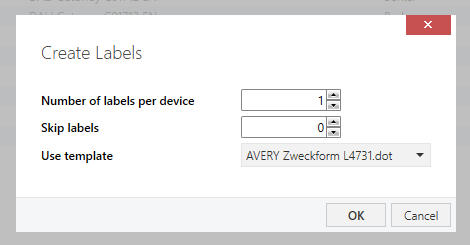 The number of labels to be created per device.
The number of labels to be skipped; in order to skip already printed labels on the sheet.
A list of available print templates to select from (provided by the user or those supplied by ETS).
The file type of the print templates to be used in ETS is always .dot.