ETS provides two types of toolbars (3/4).
Properties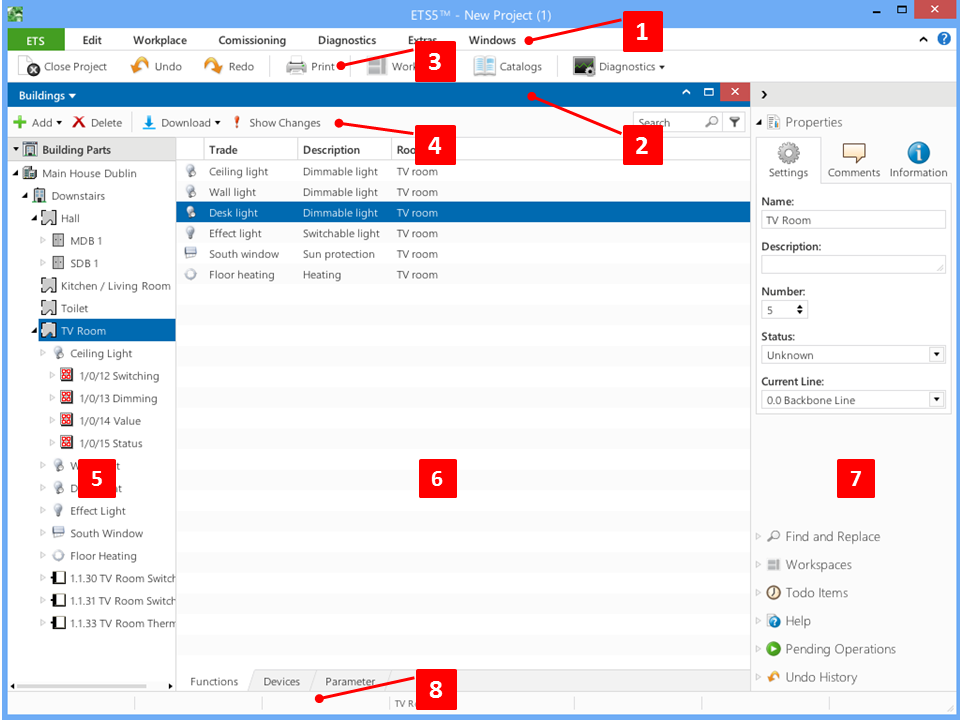 The (main) toolbar (3) can be used nearly anywhere.
In order to change the appearance of this toolbar, right click on it. You can choose between:
Icons and Text
Icons Only
Some window panels have an additional context toolbar (4). The features shown in them (which cannot be changed) are different depending on the currently selected item.
Functions
Add one or more elements
Delete one or more elements
Download
When the Download button is clicked, ETS selects the best download option for this device based on the device's flags. Clicking the arrow button allows a selection among the the Download variants.
Context Help
If supported by the device (or product database entry), display a (device) help in its own help window.
Device info
Lists the Device Information options
Highlight changes
See here
Default parameters
Grant customer access
Reset
Resets a device.
Unload
When clicked, the Unload variants are listed.
Prints the contents of the window (list view).
The search option and a symbol for activating the search function can be found on the right-hand side of context toolbars in List Views.
The icons in the toolbar (3/4) are not part of a workspace; they are valid everywhere in ETS (see User-Specific Data).
Customize
Use this dialog for custom configuration of the tool bar. Here you will find the icons available for quick access.
To add, simply drag and drop the icons from this dialog window into the tool bar.
To remove icons from the tool bar, drag the icons out of the tool bar.
| | |
| --- | --- |
| Display | Choose between Icons and Text and Icons Only. |
| Reset | Resets the tool bar to the original default configuration. |
| Done | Accepts all changes. |
Notes
The functions of the icons are locked as long as the dialog window is displayed.
The mouse cursor shows a dashed rectangle when positioned over a location at with an icon may be placed. The icons may only be placed at these positions.
ETS Apps can also provide icons for use and they can be used here in the same way as the ETS icons.