In this flyout the status of every installed App is shown.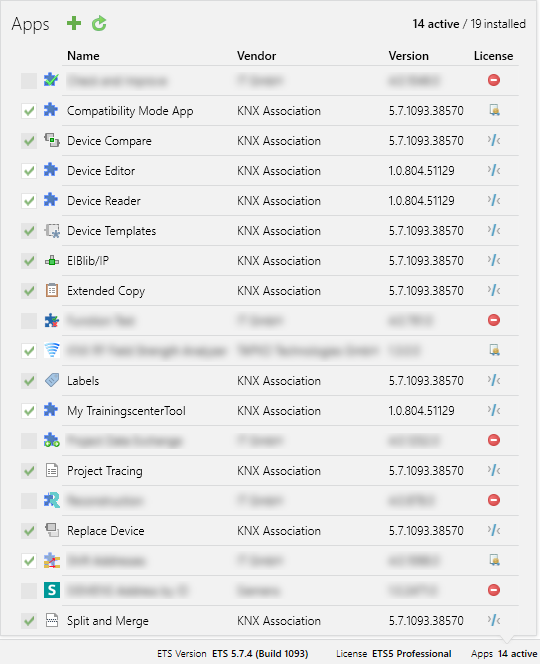 Functions
| Icon | Name | Description |
| --- | --- | --- |
| | App Install | Allows an App to be installed, see here. |
| | Check for App Updates | When clicking ETS checks for updates for all the installed Apps. |
| | App Uninstall | Shown when an App is selected*. Clicking it uninstalls the selected App. (ETS shall be restarted afterwards for the uninstall to take effect) |
| | App Configuration | (Shown if the selected App implements own configuration) |
* Built-in apps cannot be uninstalled. For the app overview see here.
Information
Option
Description
Activation status

App is activated () or deactivated ()

Built-in Apps by KNX Association are always enabled/disabled at the same time as the associated license, except for the Compatibility mode app.

Name
The name of the app.
Vendor
The name of the app publisher.
Version
The version of the app.
License status

ETS App license status

Licensed
Developer license for ETS Apps
Not licensed

The licensing of an ETS App has nothing to do with the active status itself. This means that licenses are not deleted or deinstalled when an ETS App is deactivated.