These shortcuts will allow experienced users to work with ETS even more quickly. You can replace existing keyboard shortcuts with others. Just click on the shortcut field. The message Enter key combination will appear. Then simply enter the desired key combination on the keyboard.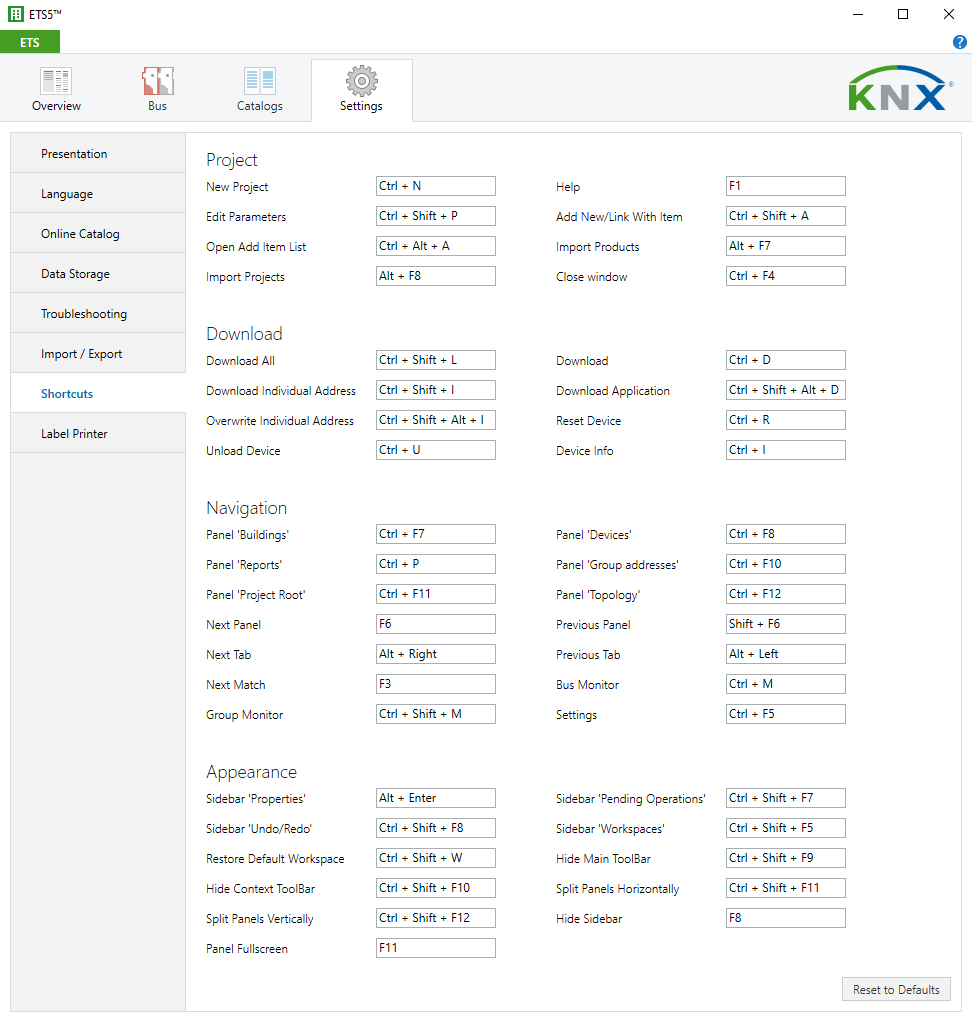 | Option | Description |
| --- | --- |
| Reset to defaults | Resets all user-specific settings to the ETS default settings. |
Valid Key Combinations
Option
Description
Permissible key combinations

Function keys F1 ... F12
SHIFT + function keys F1 ... F12
CTRL- and/or ALT- and/or SHIFT key plus letter or number

Inadmissible key combinations

SHIFT plus letter or number
CTRL + Alt, CTRL + Shift, CTRL + Alt + Shift
Reserved key combinations such as: CTRL + C, CTRL + V, CTRL + X, CTRL + A, CTRL + Y, CTRL + Z, CTRL + Insert, SHIFT + Delete
Predefined Menu Key Combinations
ETS uses predefined keyboard shortcuts in the menus of the Menu Bar. When the ALT key is pressed, these shortcuts are indicated by an underlined character, as in Copy or Delete. These shortcuts can only be invoked by pressing the ALT key + the underlined character from the menu.
Predefined System Keys
Option
Description
ESC Key

Modal windows (see Diagnostics) can be closed at any time by pressing the ESC key, independent of their visibility.

Insert Key

The <element> in this case is context dependent, e.g. a room in the building view or a device in the topology

Delete Key

Delete <element>
Disconnect connection

The <element> in this case is context dependent, e.g. a room in the building view or a device in the topology

Scrolling
The keyboard shortcut to jump at the beginning/end of a tree/list view window (also monitor) is CTRL + Pos 1/ End.
ALT + ENTER
Open the sidebar, properties