If you wonder where to start your KNX experience, make your first steps in the eCampus, our free web-based online training. You will get an overview of the KNX technology and the ETS software. At the end of each chapter, a small quiz is purposed to obtain the score you need to complete successfully the training. If you achieved at least 85% at the end of the training, you will receive two vouchers in your KNX account:
- 1 x eCampus free ETS6 Lite voucher for a free-of-charge ETS6 Lite cloud-based license (initially €200)
- 1 x eCampus Update ETS6 Lite to ETS6 Professional of -7,5% (-60€) on the purchase of an upgrade from ETS6 Lite to ETS6 Professional (initially €800).
In order to receive the vouchers, make sure the progress bar of the eCampus is fully green, and complete the online survey.
If you want to order immediately the full ETS6 Professional licenses by combining both vouchers in one single order, please send us a mail to info@knx.org and request this offer, as you will not be able to insert two voucher codes in one online order by yourself.
This training takes approximately one hour. You can stop it at any time, and continue at another moment, there is no time limit (just note that you will receive the vouchers only once all the chapters have been completed).
Follow the eCampus via your MyKNX account
- Login to your MyKNX account.
- If you do not have any yet, please create a new account by signing up:
Once successfully logged in, you find the eCampus in the main menu.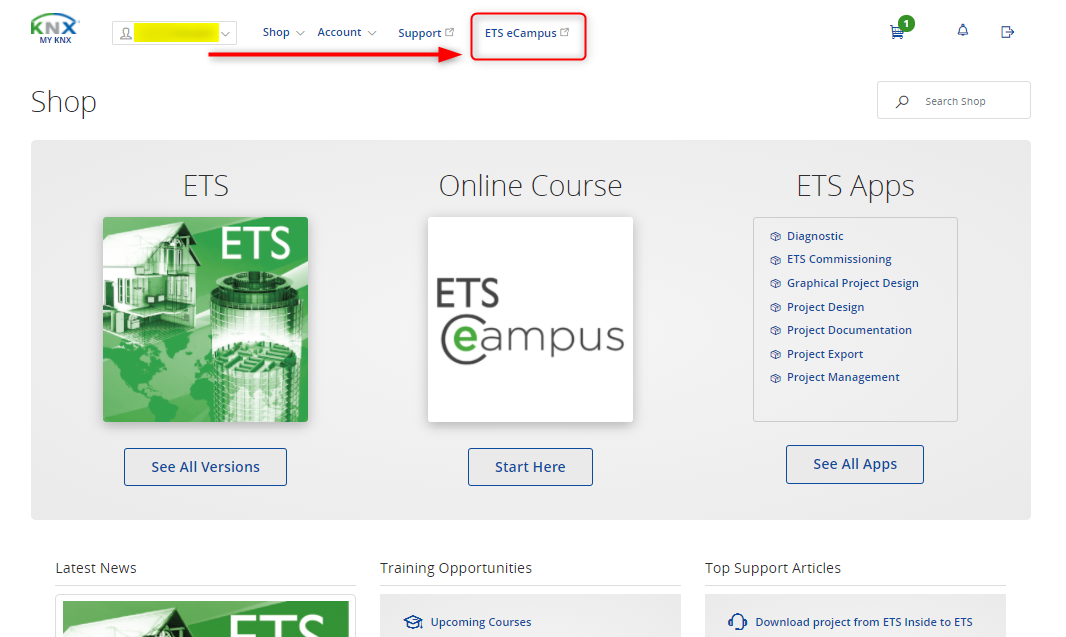 Once you click on it, you will be redirected to the eCampus platform. As this is an external platform, you will be asked a second time for your MyKNX credentials, these are your MyKNX username and password, your E-mail address is not accepted here. You can now start the training.
Follow eCampus via an Internet browser:
- Open your default browser
- Type in the URL http://ecampus.knx.org/ in the browser's address bar
- Insert your MyKNX username & password (be aware: E-mail address is not accepted here)
- Press on the "Login" button
- Once successfully logged in, you can start getting KNX knowledge!